If someone had said mental health to me, the first thing that came to mind was mental toughness. Masking pain. Hiding and keeping it in. That's what was embedded in me since I was a kid. Never show a sign of weakness. It's funny because now I know [mental health]'s the total opposite. It's being able to have the strength to pick up the phone and ask someone for help. 
– Six-time NFL All-Pro wide receiver Brandon Marshall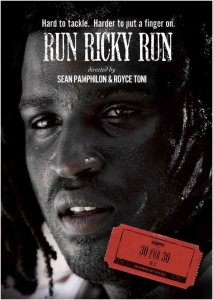 In his documentary film, Run Ricky Run, for ESPN's 30 For 30 series, director Sean Pamphilon seeks to shed light on [now former] NFL running back Ricky Williams. Pamphilon portrays Ricky as a "gentle man in a brutal business"—a thoughtful, articulate, frustratingly complex individual whose struggles began, I am sure, long before anyone noticed them. Ricky  wanted his story to be told by Sean, but under the one condition that it be done with complete honesty, "warts and all." Absolute truth.
"What was to be a five-month project became a five-year odyssey;" Sean narrates in the opening sequence, "because Ricky Williams wouldn't let me show you his wounds until they had a chance to heal."
The journey of healing and self-discovery Ricky would take during the course of those five years would see him influence and inspire many lives, perhaps none more importantly than fellow NFL star wide receiver Brandon Marshall. Brandon, whose subsequent work to bring the conversation about mental health into the mainstream–and to end the stigmas that surround it–not only helped me recognize my own struggle with anxiety and depression, but also empowered me to summon the courage I needed to seek help. With clear hindsight I can honestly say that seeking help saved my life.
I grew up an athlete and a die-hard sports fan. Some of my earliest memories are playing baseball and watching Cubs games on TV. Whether it was going to the batting cage, playing catch with my dad in the backyard, tee-ball games, or listening to Harry Caray and Steve Stone on TV and radio, my early life always seemed to revolve around baseball. I grew to love other sports as well, but nothing was more important to me in my youth than baseball.
In grade school, I remember looking forward to seeing my mom every day after school when she would pick me up. In Chicago at the time, most games started at 1:20 p.m., and I would need to be updated on what had happened during the first few innings. As a kid, I looked up to my favorite ballplayers like they were gods. I was a little too young to have watched the '85 Bears play, but that didn't stop me from idolizing them all the same.
As I grew up, I was always big and strong for my age. I loved playing baseball and I was good at it. I won my league's Home Run Derby in 1995 at the age of 14, right around the time I began playing football as well. I also loved playing football and was good at that too. At the banquet that followed my first season of football, I was awarded the Most Improved Player award, which meant a lot to me since most of my teammates had begun playing a year earlier than I had.
Football taught me many valuable skills that I still make use of to this day. I learned about discipline, teamwork, the power of a positive attitude, what it meant to be tenacious and tough. But as much good as that has done for me, football also ingrained in me some things that would become detrimental to my emotional health. From the time I was little, when I would fall down or get hurt or take a hit, I was was instructed by parents and coaches alike to get up and walk it off. Usually I could. By the time I got to high school and started weight room programs, the slogans on the walls became part of my every day:
"No pain, no gain"
"Pain is just weakness leaving the body"
"Expect pain. Endure pain. Never complain."
The messages get inside you. They become part of how you live your life. I'm tough enough to handle anything. Pain is a part of life; I ignore it and I keep on going. Now, that's all fine and good when you're talking about bumps and bruises, skinned knees, and torn rotator cuffs. But when the pain you're trying to ignore and move past lives in your head and in your heart, ignoring it doesn't make it go away. It just stores it for later so it can grow in the darkness. When I fractured my thumb inside my catcher's mitt tagging out a runner on a play at the plate, I went to the emergency room and got an X-ray to diagnose the injury and a cast to fix it. It took me years to realize and understand the ways that my soul was fractured and that no X-ray could have seen it and no cast could fix it.
Mental illness. Mentally ill. Anxiety. Depression. Social anxiety. Bipolar. Borderline Personality Disorder. Suicidal. Crazy. For years I had heard these terms casually tossed around but I never really understood them. Far too often I heard them used to excuse or dismiss the actions of people who I am sure had as little understanding of their meanings as I did. These people had far less authority to pin labels on others than they would have liked to think. But for most of my life that's what they were: labels used by those who don't understand them to explain behavior they don't understand.
It wasn't until I began to feel my life and my emotions slipping from my control–feeling distant from everything I loved and overwhelmed by everything I experienced; slowly and steadily spiraling into a person I no longer recognized–that I learned firsthand what anxiety and depression are. I couldn't have really defined any of these terms or conditions if you had asked me to, not until I learned I was suffering from some of them myself.
On July 31, 2010, while still a member of the Miami Dolphins, Brandon Marshall held a press conference to announce to the world that he had been diagnosed with, and had begun receiving treatment for, Borderline Personality Disorder, a mental illness that is marked by a pattern of ongoing instability in moods, self-image, behavior, and functioning. He didn't use this platform in an effort to excuse the off-field legal issues that had plagued the first few years of his career[1], but rather to give a face to a cause.
Brandon wanted to use his celebrity through football, as unlikely a source as there ever could be, to show those who suffer as he does that there is no need to be embarrassed about asking for or seeking help. That too many hide their pain and suffer in silence. That too many lose their lives when fighting their demons becomes too exhausting. That too many have no one they can relate to who show them that there can be another way.  Brandon wanted to make his illness and treatment public so that he could help raise awareness and end the stigmas. He wanted to be the face of the mental health community and to devote his life to helping all those who never before had a role model in recovery. He wanted to be someone you could look at and say, "If he can do it, so can I." It wasn't until a couple years later, when Brandon became a member of my beloved Chicago Bears that I learned his story and all he was working so hard to accomplish. It wasn't until I looked to him as a role model, as he had hoped I would, that I began my own path to treatment and recovery.
I've yet to have the honor of meeting Brandon in person, but I did have the opportunity to meet Ricky. Our all-too-brief interaction came in 2007 when I was working as a server at the Cheesecake Factory in Sherman Oaks, California.  Ricky was in the news at the time, as he was due to report to training camp with the Miami Dolphins.  He had retired abruptly from the NFL in 2004 at the age of 27, a move many who did not know him personally were quick to attribute to his desire to smoke pot rather than play football. It wouldn't be until much later that we would learn that Ricky was using medicinal marijuana to treat his mental illness.  Ricky suffers from Social Anxiety and Avoidance Disorder as well as Borderline Personality Disorder.
So there he sat at my table, one of the most talked-about and controversial players on SportsCenter, and almost immediately I felt something was different about this man. He was soft-spoken and he struck me as gentle and kind. Ricky looked me in the eyes when he talked to me and I'll never forget the generous tip he left me after ordering just a grilled cheese sandwich. Ricky would go on to resurrect his career and reputation during his time with the Miami Dolphins, but his greatest contribution, in my opinion, came off the field, where he was able to identify a teammate's hidden struggles.
Brandon became a member of the Miami Dolphins in the spring of 2010, where he would play side by side on the same offense with Ricky Williams.  They would go on to develop a close friendship, one that would allow Ricky to refer Brandon to the same doctor who had helped him turn his life around. I wish I could have been a fly on the wall during what I can only imagine were numerous lengthy conversations between the two men. Had it not been for Ricky Williams, we would likely not have the Brandon Marshall we know today.
And had it not been for Brandon, I wouldn't be who I am today either. I've always wanted to tell stories and I feel very lucky to have been exposed to role models such as these. Otherwise the story I'd have to tell about myself would have been a much different one than this.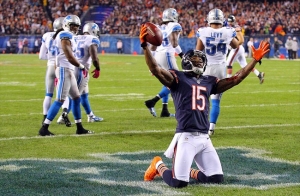 In the very near future, I will be getting a tattoo of Brandon's number 15 on the inside of my right forearm. It will serve to honor the man I have never met who has done so much for me and for others like me. I look forward to the day I get to meet Brandon so I can say thank you. Until then I will wear his number proudly on my arm. I think he'll like it.
~~~
To learn more about Brandon Marshall and his organization, Project 375, which seeks to help raise awareness about mental health issues and end the stigmas that surround them, please visit project375.org.
~~~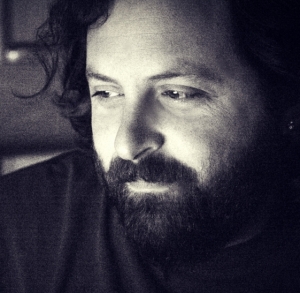 Jason Goldberg is a writer, cinephile, and avid sports fan. In 2004, after graduating from Columbia College Chicago with a BA in Film/Video Production with a concentration in Screenwriting, Jason moved from his native Chicago to Los Angeles, where he lived for 11 years. Now back in Chicago, Jason has developed a successful career in the automobile sales business. He is also Brett's older brother.
~~~
Edited by Brett Goldberg and Carrie Morrisroe
~~~
[1] Editor's note: Brandon Marshall has a history of domestic violence, both as an accused perpetrator, and as a victim/survivor. While he has not been convicted, we want to acknowledge this history and validate both the experiences of his accusers, as well as his own experiences as a victim of it. Marshall has spoken openly about this history and attributes it both to his experiences of growing up in an environment of sexual and domestic violence–witnessing his mother's abuse and being conditioned to accept it as normal–as well as his [at the time] undiagnosed mental illness. Our intention is to not excuse his behavior, but to recognize that situations of violence are often complicated, and that a perpetrator can also be a survivor. We commend Marshall for speaking openly about his experiences and holding himself accountable for past behaviors, and working to shape a healthier future. For more information, check out this article from the Chicago Tribune.