Little one don't be a fool,
I'm a wreck when I look mighty.
In Euphoria I'm bruised,
In confusion next I'm lightning.
In complacence I am small,
through oblivion I'm charged.
– "Follow My Way" by Chris Cornell, 1999
~~~
Title 18 of the United States Code, Section 1464, prohibits the utterance of any obscene, indecent or profane language by means of radio communication…If convicted in a federal district court, violators may be subject to criminal fines and/or imprisonment. (Federal Communications Commission: Obscenity, Indecency & Profanity)
Of course I didn't know this during the summer of 1996, when I was guest DJing for the first and only time at my summer camp's radio station, WCYJ. All I knew was that Soundgarden's "Ty Cobb" was the coolest thing I'd ever heard—and not just because it featured Chris Cornell singing the word "fuck" 21 times. I pressed play and made it about halfway through the song before my counselor realized what was happening and abruptly cut off the broadcast. Fortunately, I was not convicted for my transgression, and I assume that 20 years is long enough for the statute of limitations to have kicked in.
My earliest memory of Soundgarden is hearing "Black Hole Sun" in 1994 at the grocery store with my dad, and the two of us discussing how powerful Chris's voice was; it was a voice that transcended generations. I checked out Superunknown from the library and made myself a cassette tape copy, quickly falling in love. Dave Grohl once called Soundgarden, "that perfect meeting of the Beatles and Black Sabbath." But honestly that undersells it—Soundgarden was more melodically, harmonically, and rhythmically sophisticated than the Beatles, yet somehow heavier and angstier than Black Sabbath. Their very existence defied the laws of nature.
On April 9th, 1997, I turned 14 years old and Soundgarden announced they were breaking up. I was really fucking sad (although not as sad as I am today). Two years later, Chris Cornell embarked on his first solo tour, which opened at the unlikeliest of venues: an intimate late-1800s Harvard University lecture hall. A group of my high school friends were fortunate enough to get tickets, and we witnessed magic that night. Chris was vulnerable, audibly nervous, appreciative of the crowd, excited for this next chapter. The set was almost entirely made up of brand-new material (his solo debut Euphoria Mourning hadn't even been released yet), performed beautifully by his new backing band, with just one well-placed Soundgarden song: the impossible-to-listen-to-today, "Like Suicide." Fuck.
I was pretty fucking miserable throughout high school—it was a struggle to wake up every morning, and it was a struggle to go to sleep at night. The two things that kept me going were music and my friends. These concerts, then, became beacons of light—milestones I could focus on reaching while everything else was a mess. When Chris Cornell returned to Boston two months later, my friends and I were definitely back in the audience.
After the show, we gathered around the tour bus in the hopes of catching a glimpse of Chris. Eventually his bassist, Ric Markmann, and drummer, Greg Upchurch, appeared and talked to us for way longer than they had to. We were snot-nosed teens from the suburbs and yet they treated us like equals. Greg relayed the story of moving from Oklahoma to Los Angeles, broke and living out of his van, to pursue the rock 'n' roll dream. I could almost see my future.
That winter, my friend Eric and I convinced his parents to take us on a road trip to Montreal, ostensibly to visit McGill University. Imagine our surprise to learn that Chris Cornell was playing in Montreal on the very night we'd be there. (I can now safely admit to Mr. Camins and Mrs. Bernstein that the concert was in fact our primary impetus for the trip.)
You see characters do double takes in movies all the time, but have you ever experienced one in real life? I have, once, and it was while walking down the street in Montreal after Eric and I simultaneously realized we'd just passed Ric, the affable bassist from Chris's band. Our eyes popped out of our fucking heads. We quickly turned around and ran back to him, re-introducing ourselves. Once again, he was way cooler to us than the situation warranted, acting less like a celebrity being stopped on the street by fans, and more like a friend (or at least a business associate, which at 16 was something neither Eric nor I had experienced before). Ric asked if we wanted tickets to the concert, and in a bizarrely ironic twist, we turned him down because we had already bought seats. He told us to stop by and say hi after the show, which we agreed to do despite having no idea whatsoever as to how.
Midway through the set that night, Chris's band left the stage while he played a haunting solo rendition of Soundgarden's "Fell On Black Days." Eric and I turned around to discover that Ric was standing in the aisle several rows behind us, watching the performance. We smiled and waved (we did a lot of smiling that day), and he smiled and waved back. Then, as we tried to play it cool, we saw him hold up two fingers to the roadie he was standing next to and then point to us. As Ric made his way back on stage for the rest of the set, the roadie casually handed us two backstage passes. Holy fuck! As hard as we tried, we could not contain our giddiness.
After the show we found our way to the meet-and-greet area, where we spotted Ric and Greg, who introduced us to Natasha Shneider and Alain Johannes, the band's keyboardist and guitarist. Once again, no one acted like it was weird that we were there, or made us feel small. Eventually Chris rolled in wearing a bizarrely appropriate fur coat, and began signing autographs and taking pictures with the few lucky fans in attendance. As we summoned the courage to approach our idol, Greg said to Chris, "Hey, these are the guys Ric was telling us about!" Our heads exploded with the seemingly impossible fact that Chris Cornell had been discussing us, teenage Matt and Eric, earlier that day. As we posed for our photograph together, Chris mischievously said "all right boys, let's do this one real serious," but Eric and I couldn't wipe the shit-eating grins off our faces.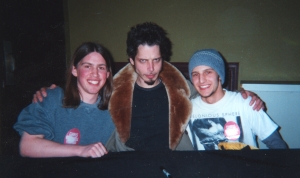 That was one of the greatest days of my life, and not just because I got to shake hands with a rock star. Everything that happened was the result of people letting go of traditional power dynamics and treating each other with kindness and dignity. Chris didn't need to joke around with us, Greg didn't need to go out of his way to make the personal introduction, Ric certainly didn't need to invite us backstage, and Eric's parents didn't need to drive us all the way to Montreal to visit a school that they probably both knew neither of us would ever attend.
I've attempted to internalize this lesson throughout my own career in music. While I haven't reached the rock stratosphere that Chris did, I have signed autographs and taken photographs with admirers. Once I even had the privilege of being recognized on the street by an excited teenaged fan—I tried to treat him the way Chris, Ric, Greg, Alain, and Natasha treated me all those years ago. I don't know if I've always been successful—sometimes the allure of an extra nap or a quiet walk alone beats out the karmic benefit of socializing—but I've tried.
I saw Chris perform five more times in my life. Each concert was exhilarating, each was transcendent, each was perfect, but none could ever possibly be as life-changing as Montreal.
The final year of Chris Cornell's life was like a greatest hits album. He supported his fourth solo record, Higher Truth, with an acoustic tour, varying setlists across decades and songwriters. He performed with Audioslave for the first time in 12 years at the "Anti-Inaugural Ball." He released "The Promise," a haunting song in tribute to the victims of the Armenian Genocide from the film of the same name, with all proceeds donated to the International Rescue Committee. He even toured with Temple of the Dog for the first time ever, on the 25th anniversary of their first and only album. And of course there was Soundgarden, the band who started it all. In Chris's final performance, just hours before taking his own life, Soundgarden closed the show with a cover of the Led Zeppelin classic "In My Time of Dying." Fuck. Fuck. Fuck.
I have loved so many of Chris Cornell's songs. I have loved "Fell On Black Days" and I have loved "Show Me How To Live" and I have loved "Let Me Drown" and I have loved "Tighter and Tighter" and I have loved "Say Hello 2 Heaven" and I have loved "Zero Chance" and I have loved "Can't Change Me" and I have loved "Nothing Left To Say But Goodbye" and yes I have loved "Like Suicide." And I have loved "The Day I Tried To Live" even more than all of those. But my favorite song that Chris ever wrote, the song I played on repeat for days, the song that, to me, perfectly encapsulates all of the angst and the beauty of the '90s, that song is called "Pretty Noose."
They say you can't see the forest for the trees, and now reading that list of song titles I wonder if they were the trees and Chris was the forest. Millions of us took comfort and found inspiration in his songs, but who could return the favor? I doubt I'm alone in feeling some level of guilt that he was going through his own dark times and we were somehow powerless to help him.
When I met my idol, Chris Cornell, he was 35 years old and I was 16. Now I'm 34 years old and he is dead at 52. It strikes me that although I have always looked up to him, and will continue to look up to him, I don't actually want his life. I'm in awe of his voice, his guitar playing, his songwriting, his honesty, his charisma, his dedication, his innovation—but his life? His life was fucking hard.
And yes, I'm trying to use the word "fuck" 21 times in this piece.
We almost got there.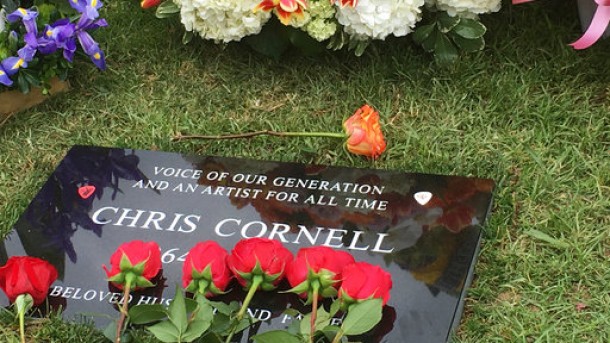 ~~~
Black Day Playlist:
Nothing Left To Say But Goodbye
~~~
Dedicated additionally to the memory of Natasha Shneider, who died of cancer in 2008 at the age of 52. Read her remarkable life story here.
To learn more information on the vital work of the International Rescue Committee, check out their website.
~~~
Edited by Brett Goldberg & Carrie Morrisroe