As music fans, critics, and collectors know well, the end of every year signals the return of list season, that holy (and wholly silly) time when we assign arbitrary numerical rankings to our favorite songs and albums. And I have to plead guilty: Even as I simultaneously scold myself about scarcity versus abundance, and as I wish I could torch all the competitive, capitalist instincts of my mind ­— particularly as it relates to creative expression — I friggin love list season.
So, as we begin to find our footing here in 2018, here is my last-minute contribution: a list of 2017's top five moments of new masculinities in music! The five moments below, in arbitrary order, come from my year in downloading, concertgoing, crate-digging, and shower-singing, and stand out for the insights they offer, the questions they raise, and the challenges they present. In arbitrary order:
~~~
Moment #5: King Hades In The Rain
Anaïs Mitchell's folk opera turned concept album turned stage musical, Hadestown, just might take the world by storm in 2018. It's poised to open on Broadway, and if there's justice in the universe (a big if), you'll be reading overdue rave reviews of this project and its creator's talent from publications with far broader cultural clout than this humble website very soon.
But in 2017, at least I can confirm that Mitchell took the Eaux Claires music festival by storm, quite literally. Fans of the "New Masculinities Playlist" would be well advised to peruse her 2012 album, Young Man in America, for its masculinity themes. But the moment that makes the list for 2017 is her solo performance of "Why We Build The Wall" from Hadestown — as precise an anthem to power, hegemony, and oppression as has ever been written — on a creaky stage in the western Wisconsin woods, as I sang along with a hundred-ish fellow fans under an utter downpour.
That's why we build the wall,
we build the wall to keep us free.
~~~
Moment #4: The Oracles' Odessey
When Brett (the editor of this website) and I lead trainings on providing support services to victim/survivors of sexual assault who identify as men, we conduct a fun thought exercise. We ask trainees to imagine the people with whom they expect to interact when providing support services: What do these men look like? How old are they? What are their personalities like? As a visual aid, Brett shows pictures of Google image search results for the word "man." (Take a second and try it yourself if you're curious.)
Perhaps unsurprisingly, trainees' ideas and Google search results tend to produce a catalog-ready, stereotypical "man." He is often white-skinned and always able-bodied, handsome, happy, and — most importantly for the present purposes — around thirty years old. In reality (to bring the lesson and exercise full circle), most often the victim/survivors we work with are in middle age or older and represent a wide range of other identities and identifiers.
Imagine doing the same thought exercise and Google search for "rock star." Mick, Keith, Bruce, and other legends loom large, to be sure, but the catalog entry for a touring rock star certainly wouldn't be a septuagenarian. Consider, then, the Zombies. Rod Argent, Colin Blunstone, and Hugh Grundy are 72. Chris White is 74. These men's names may not ring out with the same mainstream familiarity as the ones above, but I can assure you that they are legitimate touring rock stars. The Zombies recorded their "masterpiece," the album Odessey and Oracle, 50 years ago, and toured the U.S. in honor of that anniversary in 2017. As they rocked the hallowed stage at First Avenue, questions about new masculinities in music flooded my mind.
What does it feel like, as an old man, to perform art from your youth? How "rock and roll" (or heck, even "punk") is it to insist on your artistic/professional worth in a society so eager to discard its elder members? How can we accelerate a radical transformation of the music world where generic meanings of "man" and "rock star" explode in a million sparkly colors?
Brief candles in his mind
Bright and tiny gems of memory
Brief candles burn so fine
Leaves a light inside where he can see
What makes it all worthwhile
~~~
Moment #3: You Still Matter
One of my big musical regrets of 2017 was not splurging on a ticket to Dear Evan Hansen, this year's Tony winner for Best Musical, when I was in New York on a work trip. As the year has gone on, I've only come to adore the show's music more, to the point where my innumerable private sing-alongs rise to the level of a top moment of new masculinities in music. The show's storyline, which juggles suicide, parenthood, friendship among boys, and social exclusion with impressive nuance and depth, is elevated by beautiful songwriting and Ben Platt's star turn in the title role.
It's worth sitting with the whole soundtrack a couple of times and seeing if it grabs you. One song in particular, while perhaps not the best in the show, resonates with the aforementioned work that Brett and I do. Recently, we were facilitating a support group for survivors of sexual violence who identify as men. One group member, after recounting the ups and downs of his prior few days, concluded with the impromptu affirmation, "and what happens to me matters." The clarity and confidence of that line struck the group instantly, and we took on the phrase as a group slogan and weekly session-concluding affirmation: What happens to me matters.
The analogue in Dear Evan Hansen occurs in the song "Disappear," an imagined dialogue between Platt's Evan and his deceased "friend" (dig into the show's plot to understand the quotation marks there) Connor. "Connor" (same, re: quotation marks) reassures Evan in much the same way as our group members reassured each other. "No one deserves to be forgotten," the song goes, "no one deserves to fade away. No one should flicker out or have any doubt that it matters that they are here." It's a touching little thought that may not land as life-affirmingly for most listeners as it does for me, with the memories of our brave group members in mind.
"You still matter," they/we sing in unison.
Even if you've always been that
Barely-in-the-background kind of guy
You still matter
And even if you're somebody who can't escape the feeling
That the world's passed you by
You still matter
~~~
Moment #2: The Runaway Episode
Did you ever notice that most music criticism you read — including, guilty as charged, the "New Masculinities Playlist"— doesn't have much to say about the music of the music? The composition, the theory, the chord shapes, the harmonic decisions, the counterpoint, the meeting of melody and message? Well, if so: same. And 2017 was the year that I took up that gripe as a personal hobbyhorse, inspired by helpful essays and podcasts that shared the same observation.
For me, this hobbyhorse fueled good-spirited arguments among friends with discerning music taste. That's about it. For Cole Cuchna, host of the Dissect podcast, this same gripe-turned-hobbyhorse transformed his life and livelihood and, by extension, his listeners' patience and attention to detail in approaching pieces of art. In each season of Dissect, Cuchna chooses an album and commits to scrutinize (essentially) its every note, chord, lyric, and beat, delivering individual 30-40 minute episodes for each track (or, in some cases, multiple episodes for one track). The runtime of one season, in essence one album review, exceeds ten hours.
This scrutiny of musical detail, in less capable hands, would certainly become a brainy bore. But Cuchna's generosity of heart proves a perfect companion to his music theory acumen and instead, the listening experience produces something unexpected and transformational: a deep empathy for the artist and creative process.
Depth, detail, and empathy were in short supply in 2017. This was the year, of course, when Twitter users loudly resisted the platform switching to 280 characters instead of 140. In the same year, Cuchna produced tens of thousands of words of analysis of a single album … and was a smash hit.
Cuchna's subject for the recently completed Season 2 is a lightning rod for criticism of all sorts: Kanye West. Specifically, West's 2010 album, My Beautiful Dark Twisted Fantasy. (Season 1 took on Kendrick Lamar's To Pimp a Butterfly.) I'll forgive you if you were excited about diving into Dissect right up until you read the name Kanye West. No use denying it: West tends to be a villain in mainstream pop culture consciousness, at least since "I'ma let you finish" happened. But check yourself for a second; if you're eager to reject West, does that eagerness come from a tweet-length analysis or a truly patient and empathetic one? This is Cuchna's central, radical question: Might there be a role for empathy in pop culture criticism?
"Kanye West is a measuring stick for our empathetic capacity, a barometer on our willingness to understand," Cuchna writes in a standalone essay. "I chose to write about Kanye West and empathy because, for many, it's an absurd concept. But we are living in absurd times. We just concluded the worst, most divisive election cycle in recent history. The negative energy in this country is palpable. We've become so blinded by our own opinions that we forget we need each other to succeed."
In the second of two episodes analyzing the song "Runaway," perhaps the emotional centerpiece of My Beautiful Dark Twisted Fantasy, Cuchna builds an empathetic listening exercise right into the podcast itself. True to form, it defies bite-sized explanation and it's one of my top five new masculinities in music moments of the year.
~~~
Moment #1: Genius
I've known since March that at year's end, I would declare the song "Slip Away" by Perfume Genius (the stage name of Mike Hadreas) to be my favorite song of the year. Even if a true challenger had materialized in the intervening months — which didn't happen — it was always going to be the year of Perfume Genius for me. So now, without further ado, please allow me to declare officially: "Slip Away" by Perfume Genius is my favorite song of the year. Listen to it now, in the context of its gorgeous video, before reading any further.
Beyond the coronation of this song, it's the explosion of Hadreas' talent onto a larger stage, literally and figuratively, that is my No. 1 new masculinities in music moment of the year. I saw Hadreas three times in 2017, at incrementally bigger venues and settings: first, in a cameo role at a small festival in west Texas, then at his headlining show at the Cedar Cultural Center in Minneapolis, and finally on a legit festival stage at Eaux Claires.
You might very reasonably listen to Hadreas's music, marked as it is by its conspicuous vulnerability, its gaps and questions and vanishing floors, its floating and fading, and conclude that it is not well suited to a festival setting. In this conclusion, you would be entirely correct and utterly wrong. I've heard the explosion that comes about a minute into "Slip Away," in headphones, as I was slipping away into sleep on the floor of my living room. And I've heard that same explosion in a crowd of thousands under an open sky. Likewise, Hadreas pronouncing his whispers over a solo keyboard. Likewise, his sashaying.
It's all real, and it all works, and it doesn't matter where and how you experience it. Perfume Genius is enough shout to own the sky and enough whimper to own your secrets. And this all springs from Hadreas's voluptuous masculinity, as seen on stage and heard on record. Bless him.
Don't look back, I want to break free
If you'll never see 'em coming
You'll never have to hide
Take my hand, take my everything
If we only got a moment
Give it to me now
~~~
Honorable mentions
"White Man's World" by Jason Isbell
Every time Timothée Chalamet plays piano in Call Me By Your Name
Spank Rock & Amanda Blank's dance crew at Eaux Claires
Pushing play on "Strangers" by The Kinks as my sister's wedding DJ
Any of the narrators at the center of James McMurtry's songs, as performed powerfully at his Turf Club show
Pronoun-swapping lyrics to 60s garage rock songs in my band's shows
~~~
Brian Heilman is a listener, learner, evaluator, advocate, opponent of gender, proponent of pop music, Senior Research Officer at Promundo, B at B&B Justice Factory, and frequent list maker.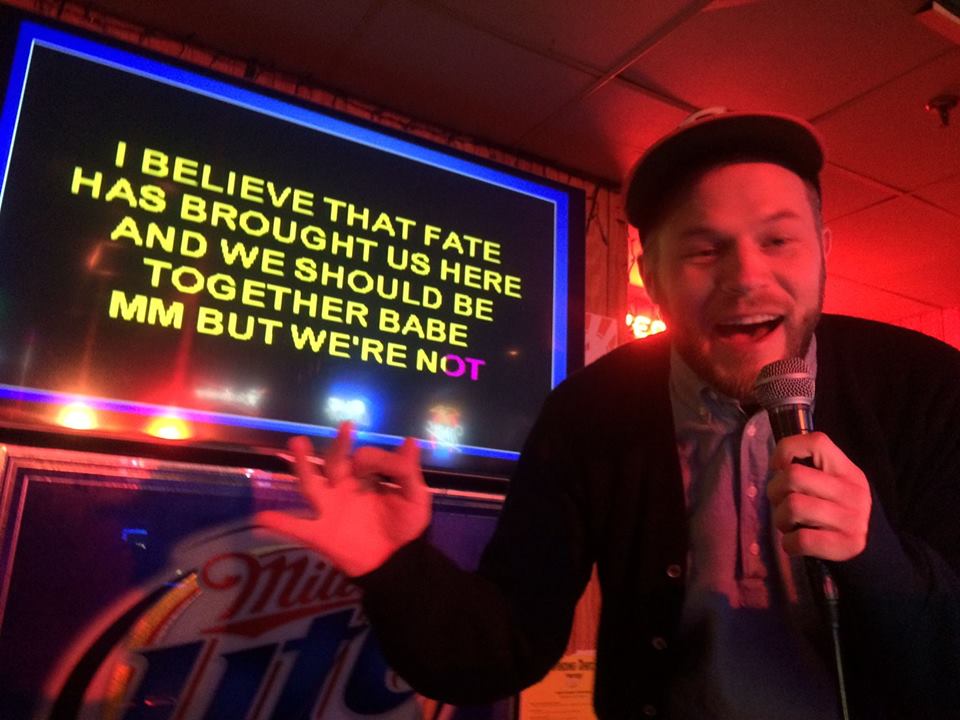 Edited by Brett Goldberg & Carrie Morrisroe